Morate biti prijavljeni kako biste pristupili sljedećoj stranici.
Molimo ,prijavite se! ili Registrujte ukoliko to već niste! :)
---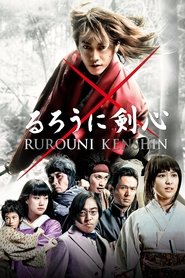 0
(No Ratings Yet)
Rurouni Kenshin Part I: Origins (2012) Film Sa Prevodom Online
Bivši legendarni atentator Kenshin Himura sada je postao lutajući samuraj. Pružajući pomoć i štiteći one koji su u potrebi kao otkup za njegova prošla djela. Za to vrijeme nailazi Kenshin Himura i pomaga Kaoru Kamiya (Emi Takei). Njezin je otac otvorio Kamiya Kasshin-ryu, školu kendoa koja se nalazi u Tokiju, a Kaoru je sada instruktor tamo. Zatim Kaoru poziva Kenshin da ostane kod njenog dojoa. Njihova se veza dalje razvija, ali Kenshina još uvijek progoni njegova nasilna prošlost …
Trajanje: 134 min
Izašlo: 2012
Ako vam se svidio - Film Rurouni Kenshin Part I: Origins (2012) sa Prevodom Online, pogledajte i...